First Manufacturer in Japan to Acquire Certification Under STCW Convention Requirements to Train Management level Seafarers in High Voltage Equipment!
June 1, 2017
On May 22, 2017, Terasaki Electric became the first manufacturer in Japan to acquire certification from the Nippon Kaiji Kyokai to train management-level seafarers in high voltage equipment under STCW Codes A-III/2 and B-III/2, and to train operational-level seafarers in high voltage equipment under STCW Codes A-III/1.
The 2010 Manila amendments to the STCW Convention added high voltage equipment skill requirements for engineers, prompting demands for training classes in Japan before and beyond January 2017 when the amendments came into full force.
Speaking about Terasaki Electric's training certification, Toshiro Koiwa, Director of Nippon Kaiji Kyokai's Certification Division, commented, "There are too few organizations to meet the demand for high voltage equipment training, but with switchboard manufacturer Terasaki Electric acquiring certification today, there is hope that this demand can be met, especially for management-level seafarers where training demand is high."
By providing training in high voltage equipment and other areas where there are needs, Terasaki Electric continues to support seafarer safety and safe ship operation, and contribute to efforts aimed at eliminating electrical accidents on the seas.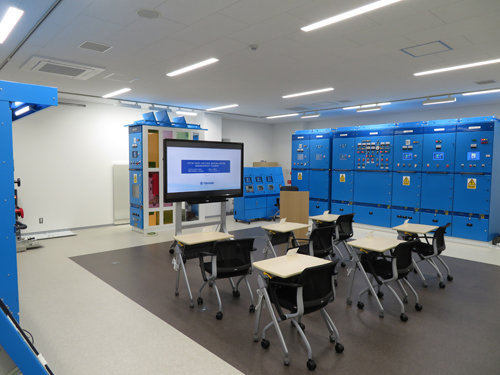 Training Facility